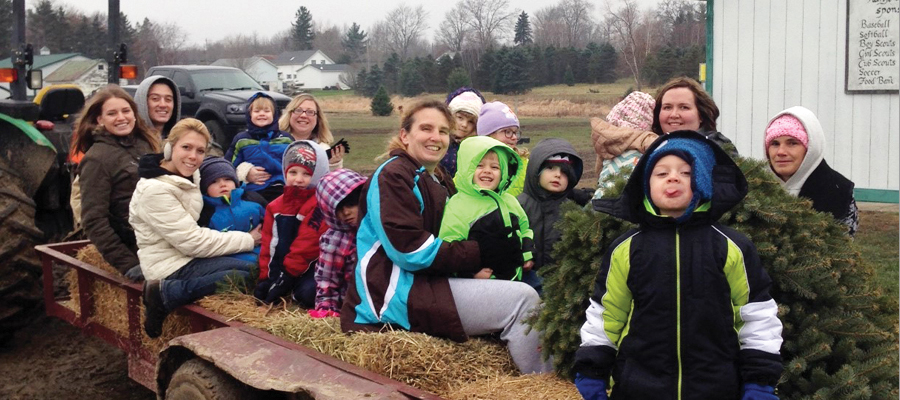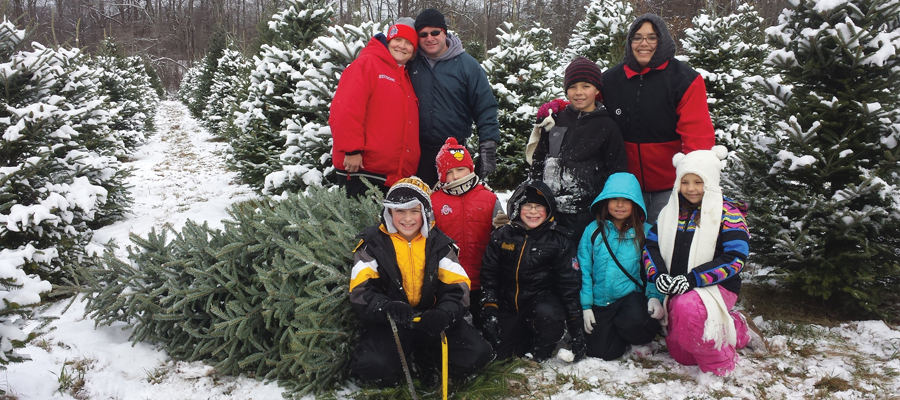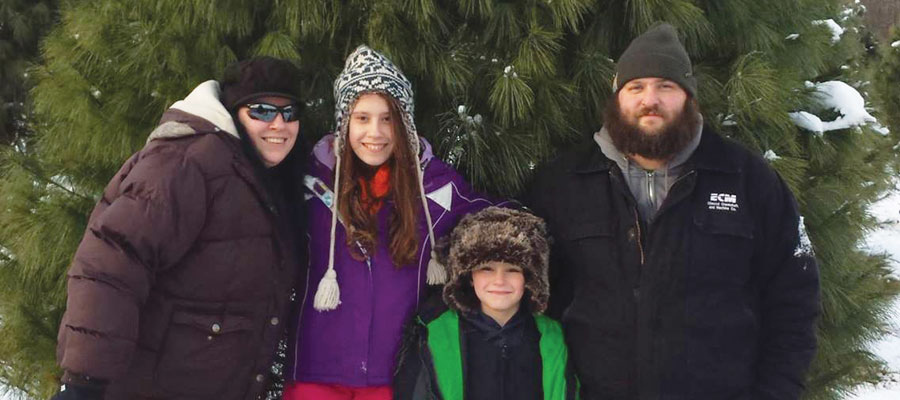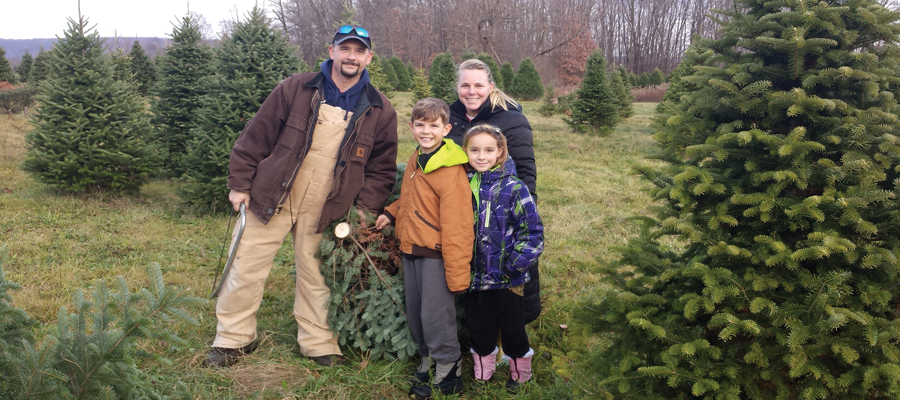 Welcome to Storeyland Christmas Tree Farm!
Since 1954, Storeyland, a family owned Christmas tree farm located in northeast Ohio, has been planting and growing over 100 acres of evergreen trees. Species available include Canaan Fir, Concolor Fir, Fraser Fir, Blue Spruce, Norway Spruce and White Pine.
During the Christmas season, visitors may walk out or take a hayride to the tree fields. We provide saws for cutting down the tree and a sled to haul the tree back to the sales area or the pickup wagon. (Click Here for Field Map)
Friendly, leashed pets are welcome.
A selection of fresh cut trees, trees to plant, wreaths, swags, pine roping, and grave blankets is also available.
Hartford Optimist Club Haunted Hayride
During the month of October, Storeyland is the home of the Hartford Optimist Club Haunted Hayride. Programs sponsored by this event include Boy Scouts, Girl Scouts, local church youth groups, local library and youth sports teams.
Farm Hours – Open Friday, November 26 through Sunday, December 19. Closed on Thanksgiving.
We are open every day of the week from 9:00am-5:00pm.
*If you or a family member are a high-risk individual and would like to ensure complete separation during your visit, please call us at 330-772-8733 (TREE). We would be more than happy to schedule an appointment for your family to go out with one employee, who will take care of you for your entire visit.
Benefits of choosing a REAL Christmas Tree:
Every acre of Christmas trees planted provides enough oxygen to meet the needs of 18 people. Christmas trees stabilize the soil, protect water supplies, and provide a refuge for wildlife while creating a scenic view. For every Real Christmas Tree harvested, 2—3 seedlings are planted the following spring.
National Christmas Tree Association
Ohio Christmas Tree Association
Due to popular demand, we are sorry to say that our fields are closed for the season as of December 4. We will be CLOSED Sun., Mon., and Tues., Dec. 5th, 6th, and 7th.

Wed., Dec. 8th through Sun., Dec.12th, we will have trees from our farm available in our fresh cut lot. Wreaths and roping are available.

If you are looking for a tree that is 12 foot or taller or you have previously come out and tagged a tree, please call (330) 772-8733 and leave a message for an appointment. Thank you.

We will be closed for the season December 13. Thank you for your support! We are trying to ensure we have a decent supply of inventory next season for our wonderful clients!

- The Team at Storeyland
Take a photo with our special guest this season. . . the Grinch!
This year, the Grinch is visiting Storeyland Christmas Tree Farm to wish the little ones a very not-so-merry Christmas! If you are around during the listed times, bring a camera and snap a photo with our guest! Don't forget to tag Storeyland on Facebook and/or Instagram to be entered into our 2021 Photo Raffle for a chance to win a $25.00 gift certificate towards your 2022 tree!
Grinch photos with our gazebo:
Saturdays: Nov. 27, Dec. 4
10:00am - 12:00pm
Grinch photos with our trees:
Saturdays: Nov. 27, Dec. 4
1:00pm - 4:00pm
Please review our Photography Policy HERE, and our photo release form is available HERE.
2021 Christmas Photo Raffle
HOW TO ENTER:
1. Like us on Facebook or follow us on Instagram (or both)!
2. Upload some photos from your visit to our farm or a photo of your decorated tree onto Facebook or Instagram, and tag Storeyland in the post.
3. Your family will automatically be entered into a random drawing at the end of the season (one entry per family).
4. THREE families will win a $25.00 gift certificate towards their tree for the 2022 Christmas season!
(Click HERE for Covid 19 Safety Guidelines)